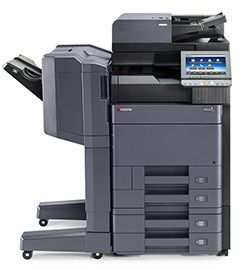 Kyocera Taskalfa Black & White Series
Last month, we highlighted Kyocera's new color series. But perhaps your workplace doesn't have a need for a color copier, well we've got you covered for that too! Kyocera offers an amazing line of black and white machines as well. The Kyocera Taskalfa 4002i, 5002i, 6002i, and 7002i are top of the line, quality designed machines that are perfect for any office. Like the color series, these machines can do it all; print, scan copy, and fax. With print speeds starting at 40 ppm and going up to as high as 90 ppm, efficiency is not an issue with these machines.
Does your new office not have a network drop where you want to put the copier? Don't really feel like running a cable across the room or up into the ceiling? No worries! The new Taskalfa series has complete wireless capabilities that allow you to connect to your office's WiFi. Another added feature is WiFi Direct. If you have someone that needs to print from their smartphones or devices, but you don't want to give out your secure WiFi password, WiFi Direct will allow the individual to connect to your network and the copier using a temporary password that the copier gives out.
The new black and white series has all the same specifications as the color series. The 9" color touch screen, the standard 1,150 sheet paper capacity, and the ability to handle a range of paper sizes that include envelopes, legal, and ledger size paper. Toner last on average 35,000 pages at a 6% image yield. These cost effective, high efficiency machines would make a great addition to any workplace.